Rock Flow – Continuous Hard Rock Haulage System
Rock Flow – Continuous Hard Rock Haulage System
The innovative Cat® Rock Flow system is a new technology that radically changes the way in which ore is moved in block caving mines from draw point to crusher. Rock Flow is achieved through continuous caving, removal from the drawpoint and conveying. The Cat® Rock Flow system comprises of several components, all centrally controlled from a remote location: the Rock Feeder RF300 to remove ore from the drawpoint, the Rock Mover RM900 (a newly developed chain conveyor) to feed ore into a crusher and an automation unit to control and smooth the production process.
Download Product Documents
Click a link to download the document:
Share:
Block Caving with Continuous Haulage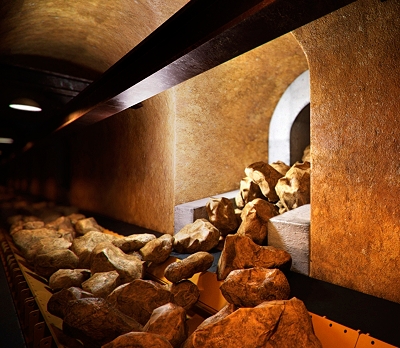 Block cave mining is a mass-mining technique used in many underground mines around the world. The innovative Cat® Rock Flow System - jointly developed with the Chilean mining company Codelco - greatly improves productivity by making use of continuous haulage technology as compared to the conventional use of LHD's. The Cat Rock Flow System combines the usage of a Rock Feeder, a Rock Mover and an automation system to deliver mass mining production with improved safety and sustainability. The Rock Feeder RF300 extracts ore from the drawpoint onto the Rock Mover (Hard Rock Chain Conveyor) by a hydraulically operated push plate. The Rock Mover RM900 is a dedicated hard rock production conveyor that collects ore from various drawpoints. An automation system (featuring remote operation from surface) allows draw and quality control and records operational data.
Rock Feeder RF300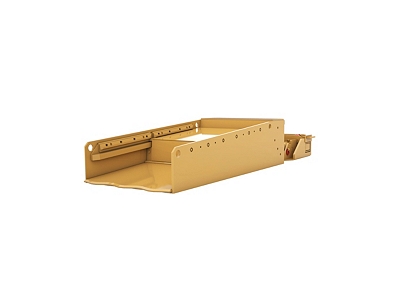 Overview
The Rock Feeder RF300 consists of a dozer and pushing cylinders designed to push the ore from the drawpoint to the hard rock production conveyor. In a reciprocating action the RF300 guarantees continuous feed. It can be quickly removed from the drawpoint at any time for maintenance or clearance work in the drawpoint.
Benefits & Features:
Guide rails: Low-wear and long-lasting guide rails for continuous forward/reverse movement
Guide bar: Easily replaceable guide bar by use of screw connections
Pusher: Dozer plates made of wear resistant steel
Pushing Device: Easy access for installation and maintenance work
Dozer: Quick assembly of dozer and pushing device
Interlocking mechanism: Easy installation into the draw point by self-moving pushing device
Draw control: Sensor-based monitoring of all system-based status information
Maintenance: Maintenance- and service-friendly access to all components
Hydraulics: Energy saving high-pressure hydraulics for maximum forces and minimum energy input
Rock Mover RM900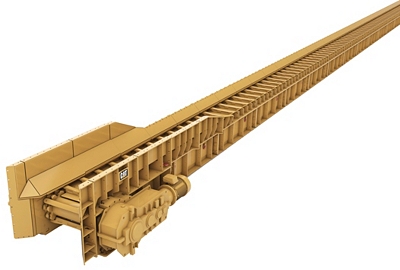 Overview
The new-type Rock Mover RM900 is a special hard rock production conveyor, specifically engineered for the difficult conditions encountered in hard rock underground mining. It is an outboard chain conveyor with a box-shaped profile, providing easy accessibility for replacement of worn parts.
Benefits & Features:
Line pan: Wrapped + screwed line pans support a quick and trouble-free replacement of worn parts
Protection: Spill plates protect motor and gear box
Flight bar: Wear resistant, durable and forged flight bars
Chain: Robust, super-flat chains with anti-klanking-mechanism (little wear), made of wear-proven, forged material for a long and durable life span
Longevity: All sliding surfaces equipped with wear-proven steel
Drive system: Variable speed drive
Tensioning tool: Mechanical interlocking of the tensioning unit enables a narrow pattern of the chain pretension
Hydraulics: Tensible return unit - powered by systems hydraulics
Return unit: Easy replacement of components by screw connections
Rock Feeder (RF300)
Capacity

300 tonnes/h (331 tons/h)

Dimensions (L × W × H)

4300 × 2000 × 1050 mm (14.1 × 6.6 × 3.4 ft)

Dozer Plate Cylinder - Cycle Time

120.0Seconds

Dozer Plate Cylinder - Pressure - Total

903956.0lb

Dozer Plate Cylinder - Quantity

4

Dozer Plate Cylinder - Stroke

4.4ft

Performance

300 tonnes/h (331 tons/h)

Pushing Cylinders - Pressure - Total

1157092.0lb

Pushing Cylinders - Quantity

2

Pushing Cylinders - Stroke

2.0ft

Weight - Pushing Device

6.4tons

Weight - Total RF300

24.3tons
Rock Mover (RM900)
Performance

900 tonnes/h (992 tons/h)

Drive Power

2 × 75 kW (2 × 102 hp)

Chain Length

512.0ft

Chain Size

42 × 146 mm (1.65 × 5.75 in)

Chain Speed

0.15 m/sec (29.5 fpm)

Conveyor Length

252.0ft

Hydraulic Return Unit

Option 1: Manually adjustable unpowered

Hydraulic Return Unit

Option 2: Fully activated

Pan Length

9.8ft

Pan Width

5.9ft
Benefits & Features

Block Caving with Continuous Haulage

Block cave mining is a mass-mining technique used in many underground mines around the world. The innovative Cat® Rock Flow System - jointly developed with the Chilean mining company Codelco - greatly improves productivity by making use of continuous haulage technology as compared to the conventional use of LHD's. The Cat Rock Flow System combines the usage of a Rock Feeder, a Rock Mover and an automation system to deliver mass mining production with improved safety and sustainability. The Rock Feeder RF300 extracts ore from the drawpoint onto the Rock Mover (Hard Rock Chain Conveyor) by a hydraulically operated push plate. The Rock Mover RM900 is a dedicated hard rock production conveyor that collects ore from various drawpoints. An automation system (featuring remote operation from surface) allows draw and quality control and records operational data.

Rock Feeder RF300

Overview

The Rock Feeder RF300 consists of a dozer and pushing cylinders designed to push the ore from the drawpoint to the hard rock production conveyor. In a reciprocating action the RF300 guarantees continuous feed. It can be quickly removed from the drawpoint at any time for maintenance or clearance work in the drawpoint.

Benefits & Features:

Guide rails: Low-wear and long-lasting guide rails for continuous forward/reverse movement
Guide bar: Easily replaceable guide bar by use of screw connections
Pusher: Dozer plates made of wear resistant steel
Pushing Device: Easy access for installation and maintenance work
Dozer: Quick assembly of dozer and pushing device
Interlocking mechanism: Easy installation into the draw point by self-moving pushing device
Draw control: Sensor-based monitoring of all system-based status information
Maintenance: Maintenance- and service-friendly access to all components
Hydraulics: Energy saving high-pressure hydraulics for maximum forces and minimum energy input

Rock Mover RM900

Overview

The new-type Rock Mover RM900 is a special hard rock production conveyor, specifically engineered for the difficult conditions encountered in hard rock underground mining. It is an outboard chain conveyor with a box-shaped profile, providing easy accessibility for replacement of worn parts.

Benefits & Features:

Line pan: Wrapped + screwed line pans support a quick and trouble-free replacement of worn parts
Protection: Spill plates protect motor and gear box
Flight bar: Wear resistant, durable and forged flight bars
Chain: Robust, super-flat chains with anti-klanking-mechanism (little wear), made of wear-proven, forged material for a long and durable life span
Longevity: All sliding surfaces equipped with wear-proven steel
Drive system: Variable speed drive
Tensioning tool: Mechanical interlocking of the tensioning unit enables a narrow pattern of the chain pretension
Hydraulics: Tensible return unit - powered by systems hydraulics
Return unit: Easy replacement of components by screw connections

Specifications

Rock Feeder (RF300)

Capacity

300 tonnes/h (331 tons/h)

Dimensions (L × W × H)

4300 × 2000 × 1050 mm (14.1 × 6.6 × 3.4 ft)

Dozer Plate Cylinder - Cycle Time

120.0Seconds

Dozer Plate Cylinder - Pressure - Total

903956.0lb

Dozer Plate Cylinder - Quantity

4

Dozer Plate Cylinder - Stroke

4.4ft

Performance

300 tonnes/h (331 tons/h)

Pushing Cylinders - Pressure - Total

1157092.0lb

Pushing Cylinders - Quantity

2

Pushing Cylinders - Stroke

2.0ft

Weight - Pushing Device

6.4tons

Weight - Total RF300

24.3tons

Rock Mover (RM900)

Performance

900 tonnes/h (992 tons/h)

Drive Power

2 × 75 kW (2 × 102 hp)

Chain Length

512.0ft

Chain Size

42 × 146 mm (1.65 × 5.75 in)

Chain Speed

0.15 m/sec (29.5 fpm)

Conveyor Length

252.0ft

Hydraulic Return Unit

Option 1: Manually adjustable unpowered

Hydraulic Return Unit

Option 2: Fully activated

Pan Length

9.8ft

Pan Width

5.9ft