777E Off-Highway Truck
Features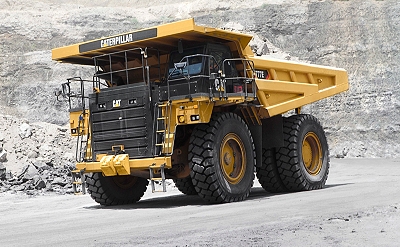 Power Train
The updated Cat® C32 ACERT™ engine and powerful torque converter with ECPC (Electronic Clutch Pressure Control) Transmission provides superior performance. The ECPC Transmission with controlled throttle shifting regulates engine speed, torque converter lock-up and transmission clutch engagement for smoother shifts, reduced clutch wear and longer component life.
Fuel Economy
The 777E fuel saving strategies find opportunities to reduce fuel burn and fuel costs. 1) Economy Mode modifies engine maps to take advantage of steady grades and level ground, reducing power and fuel burn. 2) Speed Limiting automatically selects the most fuel efficient gear and speed for the terrain instantaneously. 3) Engine Idle Shutdown identifies when the truck is in park and idles for more than a preset time, and initiates engine shutdown to conserve fuel.
Engine Over Speed Protection
Electronically senses engine conditions and automatically up-shifts one gear to prevent over speeding. If over speeding occurs in the top gear, the lock-up clutch is disengaged, and the brakes are applied.
Operator Comfort
The all new operator station interior is ergonomically designed for total machine control in a comfortable, productive and safe environment. All controls, levers, switches and gauges are positioned to maximize productivity and minimize operator fatigue. Designed for excellent all-around visibility and clear sight lines to the haul road, the large viewing area offers exceptional visibility. The well positioned hand rails ensure three point contact for safe and easy access and emergency egress for the operator.
Diagnostic Capability
Critical power train data, including transmission shifting, engine speed and fuel consumption, provides service technicians with enhanced diagnostic capability to reduce downtime and operating costs.
Electronic Technician (ET)
Cat ET service tool provides service technicians with easy access to stored diagnostic data through the Cat Data Link.
Cab and Access
The 777E cab interior, is completely redesigned to provide better visibility and comfort for the operator. Features include a new dash, advisor display and redesigned center console. Rollover and Falling Object Protection is an extension of the truck frame.
Operator Seat
The Cat Comfort Seat uses full air suspension to smooth rough rides, and has a retractable four-point seat belt with a shoulder harness. A Trainer seat with a lap belt to facilitate on-the-job training.
Brakes
The Cat Front dry caliper with rear oil-cooled multiple disc brakes deliver reliable performance and control in the most extreme haul-road conditions. Wet brakes on rear wheels and gear limiting during body up operations are both standard. If equipped with front oil cooled multiple disc brakes, four corner retarding with a 40/60 percent front/rear split provides superior control in slippery conditions and minimizes wheel lock-up.
Automatic Retarder Control (ARC) (optional)
ARC controls braking on grade electronically, maintaining consistent engine speed, lower fuel burn, and better control.
Traction Control System (TCS) (optional)
The Traction Control System electronically monitors and controls rear wheel slippage for greater traction and enhanced truck performance in poor underfoot conditions. If slippage exceeds a set limit, the rear wet brakes engage to slow the spinning wheel. Torque is then automatically transferred to the wheel with better traction and optimum control.
Steering
Cat integrated steering and suspension system is designed for precise steering, excellent maneuverability, minimal tire wear and superior ride control.
Secondary Steering
Automatically engages if power source for the normal steering fails.
Durability
Rear wheel spindles are solid steel for longer life, and the rear suspension cylinders have been inverted to minimize contamination. These rugged cylinders use large diameter bore and low pressure nitrogen/oil design for long life with minimal maintenance.
Operating Specifications
Nominal Payload Class (100%)

108tons

Top Speed - Loaded

40.9mph
Engine
Engine Model

Cat C32 ACERT

Gross Power – SAE J1995

1016hp

Net Power – SAE J1349

949hp

Note

Power rating applies at 1,750 rpm when tested under the specified condition for the specified standard.

Note

Ratings based on SAE J1995 standard air conditions of 25° C (77° F) and 100 kPa (29.61 Hg) barometer. Power based on fuel having API gravity of 35 at 16° C (60° F) and an LHV of 42 780 kJ/kg (18,390 BTU/lb) when engine used at 30° C (86° F).

Bore

5.7in

Stroke

6.4in

Displacement

1959in3

Cylinders

12

Engine Power – ISO 14396

1004hp

Engine Speed

1750rpm

Net Torque @ 1,300 rpm

3509lbf-ft

Net Torque Rise

23%

Note

No engine derating required up to 3048 m (10,000 ft) altitude.

Emissions

Meets U.S. EPA Tier 2 Equivalent emission standards.

Emissions

Certified for China Nonroad Stage III emission standards.
Capacity – Dual Slope – 100% Fill Factor
Struck

55yd3

Heaped 2:1 (SAE)

78.6yd3
Weight Distributions – Approximate
Front Axle – Empty/Loaded

44%/30%

Rear Axle – Empty/Loaded

56%/70%
Transmission
Forward 1

6.6mph

Forward 3

12.2mph

Forward 5

22.5mph

Note

Maximum travel speeds with standard 27.00R49 (E4) tires.

Forward 7

40.9mph

Reverse 1

7.5mph
Final Drives
Differential Ratio

2.74:1

Planetary Ratio

7.00:1

Total Reduction Ratio

19.16:1
Brakes
Brake Standard

ISO 3450:2011

Brake Surface Area Front Caliper

432in2

Brake Surface Area Front OCDB

6331in2

Brake Surface Area – Rear

15828in2
Service Refill Capacities
Fuel Tank

300gal

Cooling System

56gal

Steering System (includes tank)

15.6gal

Crankcase

29.9gal

Differentials

58.6gal

Final Drives (each)

11gal

Torque Converter/Brake/Hoist Hydraulic Tank

101.7gal

Transmission System

32.2gal
Body Hoists
Pump Flow – High Idle

130gal/min

Body Raise Time – High Idle

15seconds
Suspension
Rear Axle Oscillation

5.4°

Effective Cylinder Stroke – Front

12.5in

Effective Cylinder Stroke – Rear

6.5in
Capacity – X Body – 100% Fill Factor
Struck

56.3yd3

Heaped 2:1 (SAE)

83.8yd3
Steering
Turning Diameter – Front

83ft

Steering Standard

ISO 5010:2007

Steer Angle

30.5°

Turning Circle Clearance Diameter

93.17ft

Note

Separate hydraulic system prevents cross-contamination.
Tires
Standard Tire

27.00R49 (E4)

Note

Productive capabilities of the 777E truck are such that, under certain job conditions, TKPH (TMPH) capabilities of standard or optional tires could be exceeded and, therefore, limit production.

Note

Caterpillar recommends the customer evaluate all job conditions and consult the tire manufacturer for proper tire selection.
ROPS
ROPS

ROPS (Rollover Protective Structure) cab offered by Caterpillar meets ISO 3471:2008 for Operator and ISO 13459:2012 for Trainer.

FOPS

FOPS (Falling Objects Protective Structure) meets ISO 3449:2005 for Operator and ISO 13459:2012 Level II FOPS criteria for Trainer.
Sound
Sound Standards

ISO 6393:2008, SAE J1166:2008

Note

The operator sound exposure Leq (equivalent sound pressure level) measured according to work cycle procedures specified in SAE J1166:2008 is 80 dB(A) for cab offered by Caterpillar, when properly installed and maintained and tested with doors and windows

Note

The dynamic operator sound pressure level is 80 dB(A) as per ISO 6396:2008 for cab offered by Caterpillar. When properly installed and maintained and tested with doors and windows closed.
Weights: Dual Slope – Without Liner
Target Gross Machine Weight

360147lb

Body System Weight

35428lb

Empty Operating Weight

143648lb

Target Payload

216499lb
Weights: Dual Slope – With Liner
Target Gross Machine Weight

360147lb

Body System Weight

35428lb

Empty Operating Weight

155983lb

Target Payload

204164lb
Weights: X Body – Without Liner
Target Gross Machine Weight

360147lb

Body System Weight

35053lb

Empty Operating Weight

143274lb

Target Payload

216873lb
Weights: X Body – With Liner
Target Gross Machine Weight

360147lb

Body System Weight

35053lb

Empty Operating Weight

153604lb

Target Payload

206543lb
Dimensions (Approximate) – Dual Slope
Height to Top of ROPS – Loaded

15.51ft

Overall Body Length

31.35ft

Inside Body Length

21.54ft

Overall Length

32.82ft

Wheel Base

15.00ft

Rear Axle to Tail

10.00ft

Ground Clearance

2.93ft

Dump Clearance

2.91ft

Loading Height – Empty

14.37ft

Inside Body Depth – Maximum

6.21ft

Overall Height – Body Raised

33.00ft

Operating Width

20.00ft

Operating Width Extended Catwalk

21.47ft

Center Line Front Tire Width

13.66ft

Overall Front Tire Width

16.28ft

Engine Guard Clearance

2.83ft

Overall Canopy Width

19.87ft

Outside Body Width

18.12ft

Inside Body Width

17.06ft

Front Canopy Height – Loaded

17.00ft

Rear Axle Clearance

2.95ft

Center Line Rear Dual Tire Width

11.73ft

Overall Tire Width

17.26ft
Dimensions (Approximate) – X Body
Height to Top of ROPS – Loaded

15.51ft

Overall Body Length

33.00ft

Inside Body Length

23.81ft

Overall Length

33.56ft

Wheel Base

15.00ft

Rear Axle to Tail

10.70ft

Ground Clearance

2.93ft

Dump Clearance

2.68ft

Loading Height – Empty

14.53ft

Inside Body Depth – Maximum

5.83ft

Overall Height – Body Raised

34.12ft

Operating Width

20.00ft

Operating Width Extended Catwalk

21.47ft

Center Line Front Tire Width

13.66ft

Overall Front Tire Width

16.28ft

Engine Guard Clearance

2.83ft

Overall Canopy Width

20.34ft

Outside Body Width

18.66ft

Inside Body Width

17.88ft

Front Canopy Height – Loaded

17.62ft

Rear Axle Clearance

2.95ft

Center Line Rear Dual Tire Width

11.73ft

Overall Tire Width

17.26ft
Standard Equipment
Power Train

Engine idle shutdown
Air-to-air aftercooler (ATAAC)
Air cleaner with precleaner (2)
Automatic cold mode idle control
Electric priming pump
Two starters and four batteries
Fuel filter/water separator
Turbocharger (2)
Braking system

Oil cooled, multiple disc (rear)
Parking
Secondary
Caliper disc (front)
Manual retarder (utilizes rear oil cooled, multiple disc brakes)
Brake release motor (towing)

Body up shift inhibitor
Controlled throttle shifting
Directional shift management
Downshift inhibitor
Neutral start switch
Neutral coast inhibitor
Reverse shift inhibitor
Reverse neutralizer during dumping
Programmable top gear selection

Suspension Systems

Hydro pneumatic suspension

Electrical

Alarm, backup
Alternator, 145 amp
Auxiliary jump start receptacle
Batteries, maintenance-free, 12V (4), 190 amp-hour
Electrical system, 10 amp, 24V to 12V converter
MineStar™ ready
Backup light, halogen
Directional signals/hazard warning
Headlights, halogen, with dimmer
Operator access courtesy lights
Stop/tail lights, LED

Operator Environment

HVAC
Ashtray and cigarette lighter
Coat hook
Diagnostic connection port
Entertainment radio ready

Speakers, antenna, wiring harness

Air cleaner service indicator
Transmission oil temperature gauge
Air system pressure gauge
Brake oil temperature gauge
Coolant temperature gauge
Hour meter
Tachometer
Engine overspeed indicator
Fuel level, gauge
Speedometer with odometer
Transmission gear indicator
Hoist lever
Horn
Load counter, automatic
Mirrors, left and right
ROPS cab, insulated/sound suppressed
Seat, Caterpillar comfort, full air suspension and retractable four point seat belt with shoulder harness
Seat, trainer with lap belt
Steering wheel, padded/tilt/telescopic
Storage compartment
Sun visor
Throttle lock
Right side access door
Left side power window
Windshield wiper, intermittent, and washer
Tinted, laminated glass

Guards

Engine crankcase
Driveline, operator safety vandalism protection lock

Fluids

Extended life coolant to –35° C (–30° F)

Other Standard Equipment

Airline dryer
Body mounting group
Body safety pin (secures body in up position)
Body down indicator
CD ROM parts book
Center mounted rims
Ground level battery disconnect
Ground level engine shutdown
Ground level grease fittings
Reservoirs

Transmission
Steering
Brake, converter and hoist

Rims 19.5 × 49
Rock ejectors
Supplemental steering, automatic
Tie down eyes
Tow hooks (front)/tow pin (rear)