559C Knuckleboom Loader
559C Knuckleboom Loader
Cat knuckleboom loaders are known for superior multifunction capability, excellent visibility and heavy-duty booms and structures. Now the Cat C Series knuckleboom loaders feature a new more fuel efficient power system, an upgraded hydraulic system for greater reliability and significantly more lift at full reach than previous models.
Download Product Documents
Click a link to download the document:
Share:
Hydraulics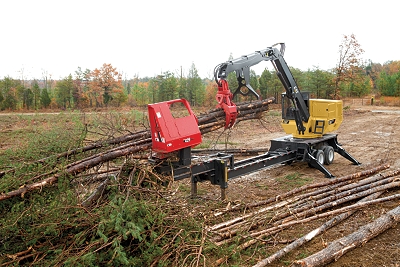 Continuous, Reliable and Responsive Control
Powerful System
The custom-engineered hydraulic system forms the heart of the C Series. The system is designed for fast cycle times, smooth operation and maximum reliability in delimbing and loading operations.
Hydraulic Pump is Powerful, Responsive, and Quiet
Designed for continuous, efficient and reliable operation, the loader's axial piston hydraulic pump meets stringent requirements for noise, efficiency, controllability and durability.
Semi-monoblock Valve System
The valve system has proven reliability in forestry applications with its fuel efficient negative control system providing precise control of individual functions. Each section is tuned for optimized flow and pressure of the function, therefore increasing machine functionality and fuel efficiency.
Operating Modes
Three operating modes allow the operator to tailor the machine's performance to match the job requirements. The "economy" mode provides the best combination of fuel efficiency and performance; an intermediate "run" position provides additional flow capabilities when higher production is required, and a "power" mode allows the full potential of the machine to come on-line to handle large timber and the heaviest delimbing requirements. All of the operating modes provide the best multi-function ability, function response, control and fast cycle times.
Automated Control System
The Cat ECM provides best in class diagnostics, operator setup capability, and adjustment of attachment flows.
Electric Hydraulic Oil Fill Pump
The hydraulic oil sight gauge makes it easy to know when oil needs to be added. Adding hydraulic oil is fast and easy with the on-board service hose and electric fill pump. Hydraulic oil is pumped through the filtering system and into the tank, maintaining cleanliness requirements.
Power Train
Exceptional Power and Fuel Efficiency
Cat C6.6 ACERT Engine
The Cat C6.6 engine with ACERT Technology gives exceptional power and fuel efficiency, while meeting U.S. Environmental Protection Agency (EPA) Tier 4 Interim, EU Stage IIIB emission standards. This engine includes electronic governing, cold mode start strategy, automatic altitude compensation, electronic diagnostics and fault monitoring.
Exceptional Cooling Capability
An enlarged side by side engine coolant, hydraulic, and charge air cooling package allows efficient heat rejection. Individually isolated cooling cores eliminating core to core thermal stresses to greatly increase durability.
Speed Modulated Viscous Fan
The large 864 mm (34 in) diameter electronically controlled variable speed fan is speed modulated to provide cooling only as required, resulting in reduced noise levels and lower fuel consumption.
Operator Station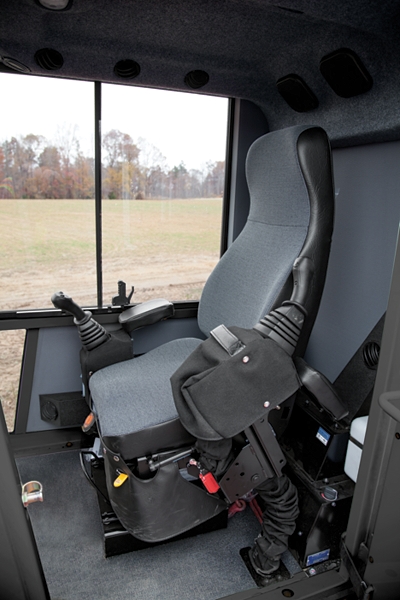 Comfort and Convenience to Keep People Productive
Front Window Guard
The HD front window guard provides an extra level of safety while handling large trees and building high wood piles.
Clear Visibility
The reverse slope front window stays clean while accumulated moisture and dust can be removed with the front window wiper/washer.
High Back Comfort Seat
The suspension seat features lumbar support and head rest that provide optimum comfort. Armrests are adjustable and cupped for better arm support.
Ergonomic Machine Controls
Hydraulic pilot actuated joystick controls with foot pedal swing for easy operator control of all functions.
Climate Controlled Cab
A high capacity air conditioning and heater system includes channeled air flow to louvered vents for full coverage of the operator and defrosting/defogging of windows.
Molded Consoles and Headliner
The molded console with storage trays eliminates cab clutter. The headliner helps reduce noise in the cab and houses HVAC louvers that allow the operator to adjust air flow. Two 12-volt power points and a factory installed CB mounting bracket, antenna cable, and power harness provide flexibility for additional electric and electronic equipment.
Safe Entry System
The walk up platform includes skid resistant deck and stair components for safe access. An enlarged doorway provides easy cab entry.
Electronics
Durable and Reliable
Information Display
A premium gauge cluster includes LED warning indicators and a digital display which provides information about machine operation, control activation, system diagnostics and operator adjustable settings.
Solid State Controls
Standard industry relays are replaced by solid state controls in high cycle applications to provide substantially longer service life.
Structure and Subframe
Built to Work in Rugged Applications
Performance
High swing torque, swing speed and lift capacity of Cat knuckleboom loaders reduce cycle times and lower cost per ton.
Durability
The heavy-duty structures of these loaders makes them the right choice for high production, high cycle applications or when handling big hardwoods. The rugged upper frame includes cross plate head side reinforcement for severe delimbing applications.
Subframe Design
Simple, clean and engineered for long life providing a rock solid base for optimum stability.
Stabilizers
Wide stance stabilizer legs and cylinder mounted lock valves resist side pulling and provide 360 degree stability for heavy lifting.
Boom and Stick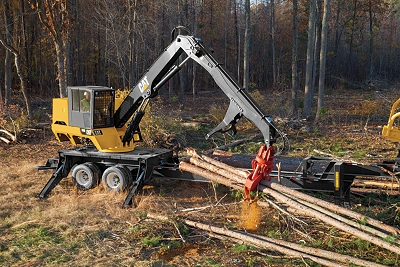 Made for Heavy Lifting and Long Service Life
Durability
Reliable, heavy-duty booms increase uptime and reduce repair costs.
Strength
The main booms are constructed in a box design with thick walls and strong welds.
Cast Pin Points
The ends and middle of the main booms are cast, which is stronger and lighter than fabricating.
Steel Tube Lines
Steel tube hydraulic lines provide extended life and effectively dissipate heat.
Grapples
Work Tool Options to Meet Your Needs
From log loading to pull through delimbing, a selection of grapple styles are available, including:
TW (tapered wedge) jaw designs for easily grabbing trees from a pile and aggressively gripping trees for delimbing.
SN (straight, narrow) jaw designs for easy log handling in loading and millyard applications.
High Tensile Steel
Grapple jaws are constructed of special high-tensile wear resistant steel. Critical areas of the jaws are reinforced and designed to protect the cylinder rods and hoses.
Optimum Configurations
Cylinder size and jaw configuration provide holding forces for large multi-stem loads as well as the ability to handle single logs.
Rounded Jaw Tips
Rounded jaw tips minimize damage to individual logs.
Heavy-duty Rotators
Heavy-duty rotators include high-pressure swivels for demanding applications. Each head assembly is constructed of high-tensile steel with heavy-duty bearings and hardened gears.
Delimber/Slasher Package
A Complete Factory Installed System
The Delimber/Slasher (DS) package is a complete factory installed timber merchandising system consisting of a knuckleboom loader and grapple, trailer with trailer-mounted delimber and ground saw slasher connections. The structural design on these loaders is proven to provide long life in punishing, pull-through delimbing applications. The package contains either a three-knife CTR 320 or a four-knife CTR 426 pull-through delimber to match application requirements. These delimbers are designed to allow quick, easy loading of trees and produce clean, delimbed stems in a flash. These delimbers also have central lubrication banks and ground level oil fill for quick, easy service. An automatic chain tensioner simplifies maintenance and extends bar and chain life. The delimbing trailers are built with structural reinforcing in critical areas for durability. Non suspension or single point tandem axle suspension is available and all trailers feature hydraulically adjustable landing gear that is adjustable from in-cab controls. This feature allows the operator to quickly position the loader in a proper operating position and make adjustments to maintain a stable base under the delimber.
Owning and Operating Costs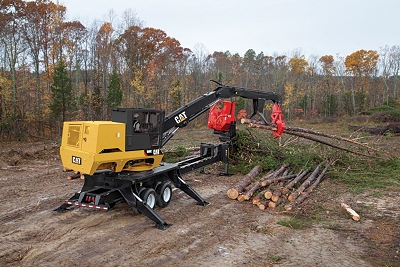 Proven Best Investment
More Productive
The new Cat C Series is more fuel efficient and productive than the previous models. In controlled lab tests, the 559C was 22% more productive than the 559B. You can move more wood and lower your cost per ton.
Fuel Efficient
A choice of operating modes give you the flexibility to match hydraulic power to the job. For normal loading operations, the Economy Mode provides fast cycle times and the most fuel-efficient performance.
Designed for Logging Applications
The booms and base structures are specifically designed for loading and delimbing applications, providing the strength and durability that allows for a long service life.
Product Link™
Allows tracking of operational parameters to ensure optimum utilization and on time service intervals.
Automatic Idle Down
The loader control system includes an automatic engine idle down feature to reduce fuel consumption during periods of inactivity.
Serviceability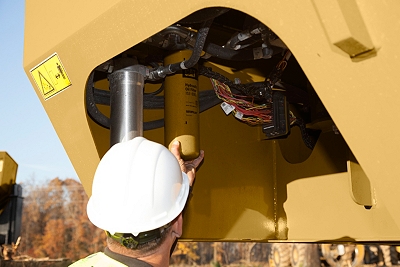 Easy to Maintain. Easy to Service.
Ground Level Filter Access
Easy changing of engine, fuel, pilot and case drain filters.
Outer-Tank Capsule Filter Assembly
Eliminates contamination backflow during filter changes.
Eco-Valves
Allows capturing of fluids for easy draining without spillage.
Easy Fluid Changes
An electric refill pump to add oil into the hydraulic tank maintains system cleanliness by passing all oil through the filtering system.
Electric Fuel Priming Pump
Easy priming of the fuel system after a service interval, eliminating the potential of fuel contamination.
Swivel, Collector and Swing Motor Access
Large access openings provide easy serviceability of fittings and connectors. Oil level check is accessed on the platform.
Isolated Cooling Cores
Isolated cooling cores can be individually removed, reducing service times.
Customer Support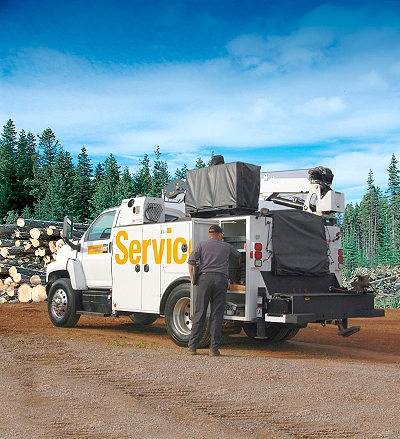 Ready to Help. Anytime. Anywhere.
Caterpillar is known the world over for the quality of customer support from its dealer network - the industry's best. No matter where you are, the expertise of a Cat dealer is always nearby. Your local Cat dealer is your forestry consultant who can recommend the machines, work tools and services to maximize your operation and provide the support to keep you at top productivity.
24-hour parts availability, where and when you need them, to minimize expensive downtime.
Remanufactured parts that carry the same warranty as new parts at a reduced cost.
Operator training to get the most out of your Cat equipment.
Field services to provide on-site help when needed.
Timely repair and replacement services.
Customer Support Agreements to lower your operating costs.
State-of-the-art diagnostic programs, such as S·O·SSM oil analysis, inspection services and trend reporting to help avoid unscheduled repairs.
Financing programs for buying, renting or leasing Cat equipment.
Cat Access Account, a fast and convenient way to pay for or rent anything offered at any Cat dealer or The Cat Rental Store.
Cat Insurance to cover equipment losses from theft, collision, flood, upset or overturn, fire, vandalism and more.
Product Link to manage your equipment fleet through remote monitoring.
Cat Certified Rebuild to get a second life from your equipment.
For more information on Cat products, dealer services and industry solutions, visit us at www.cat.com.
Sustainability
Reducing Environmental Impacts
Structures
Major structures and components are built to be rebuilt, reducing waste and replacement costs.
ACERT Engines
ACERT Technology reduces engine emissions at point of combustion with less moving parts for lower operating costs.
Engine
Gross Power

174.0hp

Engine Model

Cat® C6.6 ACERT™ Tier 4 Interim

Gross Power @ 1,800 rpm

174.0hp
Operating Specifications
Knuckleboom Length

32.0ft

Swing Speed

11.0RPM

Maximum Reach (standard boom)

32.0ft

Standard Knuckleboom Reach to Pin

32.0ft

Swing Bearing Diameter (ball path)

43.5in

Swing Torque

49173.0lb ft

Tailswing

106.0in
Weights
Operating Weight

34100.0lb

Operating Weight (less grapple)

34100.0lb

Operating Weight without grapple

34100.0lb
Hydraulic System
Cylinders - Main

two

Cylinders - Stick

one

Hydraulic Pressure - Swing

3500.0psi

Hydraulic Pressure - System

3500.0psi

Cylinders - Stabilizers

four

Hydraulic Oil Flow @ 1,800 rpm

230/174 L (60/46 gal)
Service Refill Capacities
Hydraulic Tank

80.0gal

Fuel Tank

100.0gal

Cooling System

7.5gal

Engine Oil

4.0gal

Swing Drive

1.0gal
Dimensions
Stabilizer Pad Size

508 × 711 mm (20 × 28 in)

Stabilizer Reach Below Grade

17.0in

Stabilizer Spread at Maximum Down Reach

166.8in

Stabilizer Spread at Grade

187.3in

Height to Top of Cab

157.6in
Standards
OFPS

cab meets SAE J2267
Shipping Dimensions (mounted trailer)
Height

157.6in

Width

101.3in
Standard Equipment
Electrical

24V system
Master disconnect
Circuit breaker protection
95 Amp alternator
Two (2) 12V maintenance free batteries
Standard lighting package: - Two (2) cab mounted halogen light fixtures
Electronic engine/machine monitoring system
Two (2) 12V power points
20 circuit electric swivel

Operator Environment

Cab with swing out front window guard (meets SAE J2267)
Isolation mountings
Dual joystick control (pilot hydraulic actuation) with foot pedal swing
Electric stabilizer controls
Integrated trailer landing gear control
Pilot shut-off button
Push button throttle control
Reverse slope windshield
Skylight
Tinted safety glass
Sunshade - dual position for front window/skylight
High back suspension seat with lumbar support
High capacity AC/heater system with outside air intake
Defroster fan
Windshield wiper/washer
Dome light
Horn
Radio ready - includes speakers and AM/FM antennas
CB Radio ready - includes mounting bracket, power and ground wires, antenna cable and antenna mount bracket
Product Link ready
Cup holder
Fire extinguisher mounting bracket
Diagnostic port
Cell phone storage tray

Power Train

Cat C6.6 ACERT engine meets U.S. EPA Tier 4 Interim/EU Stage IIIB emission standards
Electric fuel priming pump
Air precleaner
2-stage air cleaner
Enlarged cooling package with isolated cores
378 L (100 U.S. gal) fuel tank
Fuel water separator
Variable speed fan

Hydraulics

Twin 140 cm3 (8.54 in3) variable displacement pumps
Excavator style "Negacon" system
Bar slasher/delimber hydraulic package
302 L (80 U.S. gal) hydraulic tank
Electric hydraulic oil fill pump

Structure And Subframe

Fabricated heavy-duty, extended length center mount subframe
Flat top subframe deck with bolt-on skid resistant fenders
Bolt-on subframe ladder

Booms And Sticks

9.8 m (32 ft) reach knuckleboom
229 mm (9 in) grapple mounting knuckle

Antifreeze

50% concentration extended life coolant
Optional Equipment
Ds Systems

Non-suspension trailer with hydraulic landing gear
Suspension trailer with hydraulic landing gear
CTR 320 three-knife delimber
CTR 426 four-knife delimber

Other Equipment

Cat Product Link
AM/FM/CD/Satellite radio receiver
Long-range front lights on cab
Engine compartment lights
Additional subframe ladders
Auxiliary light package
Slasher port adapter fittings
Single "V" and double "VV" bolt on heels
Single "V" extended and double "VV" extended bolt on heels
305 mm (12 in) grapple mounting knuckle
Grapples
Benefits & Features

Hydraulics

Continuous, Reliable and Responsive Control

Powerful System

The custom-engineered hydraulic system forms the heart of the C Series. The system is designed for fast cycle times, smooth operation and maximum reliability in delimbing and loading operations.

Hydraulic Pump is Powerful, Responsive, and Quiet

Designed for continuous, efficient and reliable operation, the loader's axial piston hydraulic pump meets stringent requirements for noise, efficiency, controllability and durability.

Semi-monoblock Valve System

The valve system has proven reliability in forestry applications with its fuel efficient negative control system providing precise control of individual functions. Each section is tuned for optimized flow and pressure of the function, therefore increasing machine functionality and fuel efficiency.

Operating Modes

Three operating modes allow the operator to tailor the machine's performance to match the job requirements. The "economy" mode provides the best combination of fuel efficiency and performance; an intermediate "run" position provides additional flow capabilities when higher production is required, and a "power" mode allows the full potential of the machine to come on-line to handle large timber and the heaviest delimbing requirements. All of the operating modes provide the best multi-function ability, function response, control and fast cycle times.

Automated Control System

The Cat ECM provides best in class diagnostics, operator setup capability, and adjustment of attachment flows.

Electric Hydraulic Oil Fill Pump

The hydraulic oil sight gauge makes it easy to know when oil needs to be added. Adding hydraulic oil is fast and easy with the on-board service hose and electric fill pump. Hydraulic oil is pumped through the filtering system and into the tank, maintaining cleanliness requirements.

Power Train

Exceptional Power and Fuel Efficiency

Cat C6.6 ACERT Engine

The Cat C6.6 engine with ACERT Technology gives exceptional power and fuel efficiency, while meeting U.S. Environmental Protection Agency (EPA) Tier 4 Interim, EU Stage IIIB emission standards. This engine includes electronic governing, cold mode start strategy, automatic altitude compensation, electronic diagnostics and fault monitoring.

Exceptional Cooling Capability

An enlarged side by side engine coolant, hydraulic, and charge air cooling package allows efficient heat rejection. Individually isolated cooling cores eliminating core to core thermal stresses to greatly increase durability.

Speed Modulated Viscous Fan

The large 864 mm (34 in) diameter electronically controlled variable speed fan is speed modulated to provide cooling only as required, resulting in reduced noise levels and lower fuel consumption.

Operator Station

Comfort and Convenience to Keep People Productive

Front Window Guard

The HD front window guard provides an extra level of safety while handling large trees and building high wood piles.

Clear Visibility

The reverse slope front window stays clean while accumulated moisture and dust can be removed with the front window wiper/washer.

High Back Comfort Seat

The suspension seat features lumbar support and head rest that provide optimum comfort. Armrests are adjustable and cupped for better arm support.

Ergonomic Machine Controls

Hydraulic pilot actuated joystick controls with foot pedal swing for easy operator control of all functions.

Climate Controlled Cab

A high capacity air conditioning and heater system includes channeled air flow to louvered vents for full coverage of the operator and defrosting/defogging of windows.

Molded Consoles and Headliner

The molded console with storage trays eliminates cab clutter. The headliner helps reduce noise in the cab and houses HVAC louvers that allow the operator to adjust air flow. Two 12-volt power points and a factory installed CB mounting bracket, antenna cable, and power harness provide flexibility for additional electric and electronic equipment.

Safe Entry System

The walk up platform includes skid resistant deck and stair components for safe access. An enlarged doorway provides easy cab entry.

Electronics

Durable and Reliable

Information Display

A premium gauge cluster includes LED warning indicators and a digital display which provides information about machine operation, control activation, system diagnostics and operator adjustable settings.

Solid State Controls

Standard industry relays are replaced by solid state controls in high cycle applications to provide substantially longer service life.

Structure and Subframe

Built to Work in Rugged Applications

Performance

High swing torque, swing speed and lift capacity of Cat knuckleboom loaders reduce cycle times and lower cost per ton.

Durability

The heavy-duty structures of these loaders makes them the right choice for high production, high cycle applications or when handling big hardwoods. The rugged upper frame includes cross plate head side reinforcement for severe delimbing applications.

Subframe Design

Simple, clean and engineered for long life providing a rock solid base for optimum stability.

Stabilizers

Wide stance stabilizer legs and cylinder mounted lock valves resist side pulling and provide 360 degree stability for heavy lifting.

Boom and Stick

Made for Heavy Lifting and Long Service Life

Durability

Reliable, heavy-duty booms increase uptime and reduce repair costs.

Strength

The main booms are constructed in a box design with thick walls and strong welds.

Cast Pin Points

The ends and middle of the main booms are cast, which is stronger and lighter than fabricating.

Steel Tube Lines

Steel tube hydraulic lines provide extended life and effectively dissipate heat.

Grapples

Work Tool Options to Meet Your Needs

From log loading to pull through delimbing, a selection of grapple styles are available, including:

TW (tapered wedge) jaw designs for easily grabbing trees from a pile and aggressively gripping trees for delimbing.
SN (straight, narrow) jaw designs for easy log handling in loading and millyard applications.

High Tensile Steel

Grapple jaws are constructed of special high-tensile wear resistant steel. Critical areas of the jaws are reinforced and designed to protect the cylinder rods and hoses.

Optimum Configurations

Cylinder size and jaw configuration provide holding forces for large multi-stem loads as well as the ability to handle single logs.

Rounded Jaw Tips

Rounded jaw tips minimize damage to individual logs.

Heavy-duty Rotators

Heavy-duty rotators include high-pressure swivels for demanding applications. Each head assembly is constructed of high-tensile steel with heavy-duty bearings and hardened gears.

Delimber/Slasher Package

A Complete Factory Installed System

The Delimber/Slasher (DS) package is a complete factory installed timber merchandising system consisting of a knuckleboom loader and grapple, trailer with trailer-mounted delimber and ground saw slasher connections. The structural design on these loaders is proven to provide long life in punishing, pull-through delimbing applications. The package contains either a three-knife CTR 320 or a four-knife CTR 426 pull-through delimber to match application requirements. These delimbers are designed to allow quick, easy loading of trees and produce clean, delimbed stems in a flash. These delimbers also have central lubrication banks and ground level oil fill for quick, easy service. An automatic chain tensioner simplifies maintenance and extends bar and chain life. The delimbing trailers are built with structural reinforcing in critical areas for durability. Non suspension or single point tandem axle suspension is available and all trailers feature hydraulically adjustable landing gear that is adjustable from in-cab controls. This feature allows the operator to quickly position the loader in a proper operating position and make adjustments to maintain a stable base under the delimber.

Owning and Operating Costs

Proven Best Investment

More Productive

The new Cat C Series is more fuel efficient and productive than the previous models. In controlled lab tests, the 559C was 22% more productive than the 559B. You can move more wood and lower your cost per ton.

Fuel Efficient

A choice of operating modes give you the flexibility to match hydraulic power to the job. For normal loading operations, the Economy Mode provides fast cycle times and the most fuel-efficient performance.

Designed for Logging Applications

The booms and base structures are specifically designed for loading and delimbing applications, providing the strength and durability that allows for a long service life.

Product Link™

Allows tracking of operational parameters to ensure optimum utilization and on time service intervals.

Automatic Idle Down

The loader control system includes an automatic engine idle down feature to reduce fuel consumption during periods of inactivity.

Serviceability

Easy to Maintain. Easy to Service.

Ground Level Filter Access

Easy changing of engine, fuel, pilot and case drain filters.

Outer-Tank Capsule Filter Assembly

Eliminates contamination backflow during filter changes.

Eco-Valves

Allows capturing of fluids for easy draining without spillage.

Easy Fluid Changes

An electric refill pump to add oil into the hydraulic tank maintains system cleanliness by passing all oil through the filtering system.

Electric Fuel Priming Pump

Easy priming of the fuel system after a service interval, eliminating the potential of fuel contamination.

Swivel, Collector and Swing Motor Access

Large access openings provide easy serviceability of fittings and connectors. Oil level check is accessed on the platform.

Isolated Cooling Cores

Isolated cooling cores can be individually removed, reducing service times.

Customer Support

Ready to Help. Anytime. Anywhere.

Caterpillar is known the world over for the quality of customer support from its dealer network - the industry's best. No matter where you are, the expertise of a Cat dealer is always nearby. Your local Cat dealer is your forestry consultant who can recommend the machines, work tools and services to maximize your operation and provide the support to keep you at top productivity.

24-hour parts availability, where and when you need them, to minimize expensive downtime.
Remanufactured parts that carry the same warranty as new parts at a reduced cost.
Operator training to get the most out of your Cat equipment.
Field services to provide on-site help when needed.
Timely repair and replacement services.
Customer Support Agreements to lower your operating costs.
State-of-the-art diagnostic programs, such as S·O·SSM oil analysis, inspection services and trend reporting to help avoid unscheduled repairs.
Financing programs for buying, renting or leasing Cat equipment.
Cat Access Account, a fast and convenient way to pay for or rent anything offered at any Cat dealer or The Cat Rental Store.
Cat Insurance to cover equipment losses from theft, collision, flood, upset or overturn, fire, vandalism and more.
Product Link to manage your equipment fleet through remote monitoring.
Cat Certified Rebuild to get a second life from your equipment.

For more information on Cat products, dealer services and industry solutions, visit us at www.cat.com.

Sustainability

Reducing Environmental Impacts

Structures

Major structures and components are built to be rebuilt, reducing waste and replacement costs.

ACERT Engines

ACERT Technology reduces engine emissions at point of combustion with less moving parts for lower operating costs.

Specifications

Engine

Gross Power

174.0hp

Engine Model

Cat® C6.6 ACERT™ Tier 4 Interim

Gross Power @ 1,800 rpm

174.0hp

Operating Specifications

Knuckleboom Length

32.0ft

Swing Speed

11.0RPM

Maximum Reach (standard boom)

32.0ft

Standard Knuckleboom Reach to Pin

32.0ft

Swing Bearing Diameter (ball path)

43.5in

Swing Torque

49173.0lb ft

Tailswing

106.0in

Weights

Operating Weight

34100.0lb

Operating Weight (less grapple)

34100.0lb

Operating Weight without grapple

34100.0lb

Hydraulic System

Cylinders - Main

two

Cylinders - Stick

one

Hydraulic Pressure - Swing

3500.0psi

Hydraulic Pressure - System

3500.0psi

Cylinders - Stabilizers

four

Hydraulic Oil Flow @ 1,800 rpm

230/174 L (60/46 gal)

Service Refill Capacities

Hydraulic Tank

80.0gal

Fuel Tank

100.0gal

Cooling System

7.5gal

Engine Oil

4.0gal

Swing Drive

1.0gal

Dimensions

Stabilizer Pad Size

508 × 711 mm (20 × 28 in)

Stabilizer Reach Below Grade

17.0in

Stabilizer Spread at Maximum Down Reach

166.8in

Stabilizer Spread at Grade

187.3in

Height to Top of Cab

157.6in

Standards

OFPS

cab meets SAE J2267

Shipping Dimensions (mounted trailer)

Height

157.6in

Width

101.3in

Equipment

Standard Equipment

Electrical

24V system
Master disconnect
Circuit breaker protection
95 Amp alternator
Two (2) 12V maintenance free batteries
Standard lighting package: - Two (2) cab mounted halogen light fixtures
Electronic engine/machine monitoring system
Two (2) 12V power points
20 circuit electric swivel

Operator Environment

Cab with swing out front window guard (meets SAE J2267)
Isolation mountings
Dual joystick control (pilot hydraulic actuation) with foot pedal swing
Electric stabilizer controls
Integrated trailer landing gear control
Pilot shut-off button
Push button throttle control
Reverse slope windshield
Skylight
Tinted safety glass
Sunshade - dual position for front window/skylight
High back suspension seat with lumbar support
High capacity AC/heater system with outside air intake
Defroster fan
Windshield wiper/washer
Dome light
Horn
Radio ready - includes speakers and AM/FM antennas
CB Radio ready - includes mounting bracket, power and ground wires, antenna cable and antenna mount bracket
Product Link ready
Cup holder
Fire extinguisher mounting bracket
Diagnostic port
Cell phone storage tray

Power Train

Cat C6.6 ACERT engine meets U.S. EPA Tier 4 Interim/EU Stage IIIB emission standards
Electric fuel priming pump
Air precleaner
2-stage air cleaner
Enlarged cooling package with isolated cores
378 L (100 U.S. gal) fuel tank
Fuel water separator
Variable speed fan

Hydraulics

Twin 140 cm3 (8.54 in3) variable displacement pumps
Excavator style "Negacon" system
Bar slasher/delimber hydraulic package
302 L (80 U.S. gal) hydraulic tank
Electric hydraulic oil fill pump

Structure And Subframe

Fabricated heavy-duty, extended length center mount subframe
Flat top subframe deck with bolt-on skid resistant fenders
Bolt-on subframe ladder

Booms And Sticks

9.8 m (32 ft) reach knuckleboom
229 mm (9 in) grapple mounting knuckle

Antifreeze

50% concentration extended life coolant

Optional Equipment

Ds Systems

Non-suspension trailer with hydraulic landing gear
Suspension trailer with hydraulic landing gear
CTR 320 three-knife delimber
CTR 426 four-knife delimber

Other Equipment

Cat Product Link
AM/FM/CD/Satellite radio receiver
Long-range front lights on cab
Engine compartment lights
Additional subframe ladders
Auxiliary light package
Slasher port adapter fittings
Single "V" and double "VV" bolt on heels
Single "V" extended and double "VV" extended bolt on heels
305 mm (12 in) grapple mounting knuckle
Grapples