314C LCR Hydraulic Excavator
314C LCR Hydraulic Excavator
Increased horsepower, better controllability, extended service intervals and a redesigned operator station increase your productivity and lower your operating costs.
Download Product Brochure
Share:
Compact Radius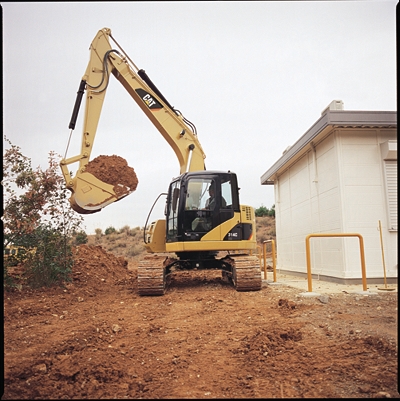 The 314C LCR features a compact radius, making it ideal for working in urban construction where space is often restricted.
Engine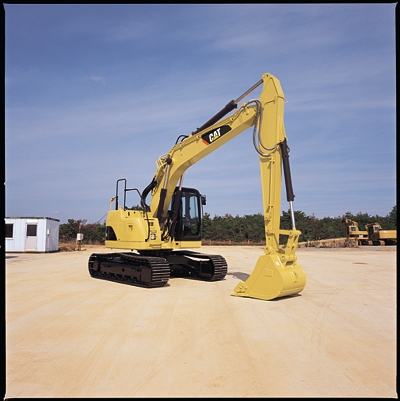 The new Cat 3064 T engine delivers outstanding performance, fuel efficiency and low sound levels. This compact engine was developed specifically for construction equipment and provides excellent durability.
Hydraulics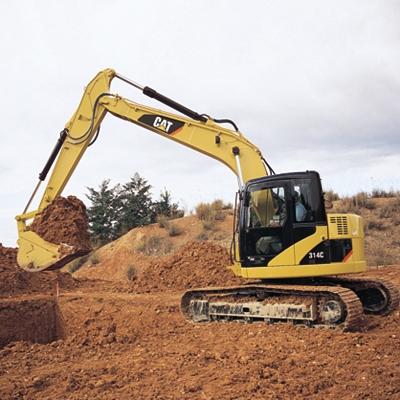 The open-center, two-pump hydraulic system provides high efficiency and reliability. The machine's pump flow control improves fuel efficiency, ensures smooth control, reduces sound levels and extends component life.
Operator Station
An enlarged cab and new window design enhance visibility and operator comfort. Sliding door system allows easy operator access, even in tight quarters. All operator controls are designed for smooth, low-effort operation and easy reach.
Front Linkage
Front linkage variations allow the use of one boom, two sticks and five bucket sizes for maximum productivity on a wide range of jobs.
Buckets, Quick Coupler and Work Tools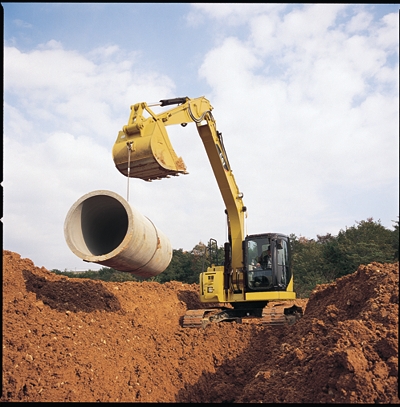 Ex-CWTS available buckets, quick couplers, multi-grapples, shears, and ex-CIPL available hammers – to provide a total solution package to the end-user.
Undercarriage and Blades
Rugged Cat undercarriage design and proven structural manufacturing techniques ensure outstanding durability in the toughest conditions. Blades feature replaceable and reversible cutting edges for long service life and reliability.
Serviceability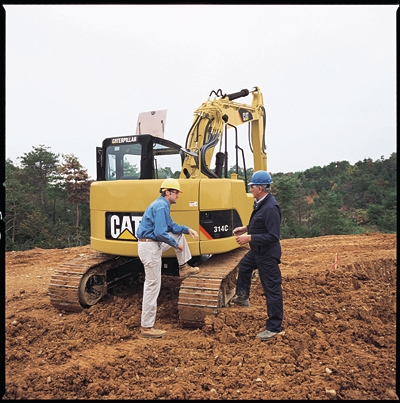 Longer service intervals and easier maintenance result in better machine vailability and lower owning and operating costs.
Complete Customer Support
Your Cat dealer offers a wide range of services that can be set up under a customer support agreement when you purchase your equipment. The dealer will help you choose a plan that can cover everything from machine configuration to eventual replacement.
Engine
Engine Model

3064T

Flywheel Power

91.0hp

Gross Power

94.0hp

ISO 9249

90.0hp

Bore

4.0in

Stroke

5.1in

Displacement

259.0in3

Net Power – SAE J1349

91.0hp
Weights
Operating Weight

32590.0lb

Operating Weight – Standard Undercarriage

32190.0lb

Operating Weight – Long Undercarriage

32590.0lb
Drive
Maximum Drawbar Pull

24730.0lb

Travel Speed

3.4mph
Swing Mechanism
Swing Torque

22790.0lb ft

Swing Speed

12.6RPM
Hydraulic System
Main Implement System – Maximum Flow (2x)

33.5gal/min

Maximum Pressure – Implements

4340.0psi

Maximum Pressure – Travel

4980.0psi

Maximum Pressure – Swing

3340.0psi

Pilot System – Maximum Flow

6.9gal/min

Pilot System – Maximum Pressure

600.0psi

Blade – Maximum Flow

15.5gal/min

Blade System - Maximum Pressure

2990.0psi

Boom Cylinder – Bore

4.0in

Boom Cylinder – Stroke

39.4in

Stick Cylinder – Bore

4.7in

Stick Cylinder – Stroke

47.1in

Bucket Cylinder – Bore

3.9in

Bucket Cylinder – Stroke

37.0in
Service Refill Capacities
Fuel Tank

52.8gal

Cooling System

4.6gal

Engine Oil

4.6gal

Swing Drive (each)

0.8gal

Final Drive (each)

0.66gal

Hydraulic System (including tank)

39.6gal

Hydraulic Tank

31.7gal
Standards
Cab/FOGS

0
Benefits & Features

Compact Radius

The 314C LCR features a compact radius, making it ideal for working in urban construction where space is often restricted.

Engine

The new Cat 3064 T engine delivers outstanding performance, fuel efficiency and low sound levels. This compact engine was developed specifically for construction equipment and provides excellent durability.

Hydraulics

The open-center, two-pump hydraulic system provides high efficiency and reliability. The machine's pump flow control improves fuel efficiency, ensures smooth control, reduces sound levels and extends component life.

Operator Station

An enlarged cab and new window design enhance visibility and operator comfort. Sliding door system allows easy operator access, even in tight quarters. All operator controls are designed for smooth, low-effort operation and easy reach.

Front Linkage

Front linkage variations allow the use of one boom, two sticks and five bucket sizes for maximum productivity on a wide range of jobs.

Buckets, Quick Coupler and Work Tools

Ex-CWTS available buckets, quick couplers, multi-grapples, shears, and ex-CIPL available hammers – to provide a total solution package to the end-user.

Undercarriage and Blades

Rugged Cat undercarriage design and proven structural manufacturing techniques ensure outstanding durability in the toughest conditions. Blades feature replaceable and reversible cutting edges for long service life and reliability.

Serviceability

Longer service intervals and easier maintenance result in better machine vailability and lower owning and operating costs.

Complete Customer Support

Your Cat dealer offers a wide range of services that can be set up under a customer support agreement when you purchase your equipment. The dealer will help you choose a plan that can cover everything from machine configuration to eventual replacement.

Specifications

Engine

Engine Model

3064T

Flywheel Power

91.0hp

Gross Power

94.0hp

ISO 9249

90.0hp

Bore

4.0in

Stroke

5.1in

Displacement

259.0in3

Net Power – SAE J1349

91.0hp

Weights

Operating Weight

32590.0lb

Operating Weight – Standard Undercarriage

32190.0lb

Operating Weight – Long Undercarriage

32590.0lb

Drive

Maximum Drawbar Pull

24730.0lb

Travel Speed

3.4mph

Swing Mechanism

Swing Torque

22790.0lb ft

Swing Speed

12.6RPM

Hydraulic System

Main Implement System – Maximum Flow (2x)

33.5gal/min

Maximum Pressure – Implements

4340.0psi

Maximum Pressure – Travel

4980.0psi

Maximum Pressure – Swing

3340.0psi

Pilot System – Maximum Flow

6.9gal/min

Pilot System – Maximum Pressure

600.0psi

Blade – Maximum Flow

15.5gal/min

Blade System - Maximum Pressure

2990.0psi

Boom Cylinder – Bore

4.0in

Boom Cylinder – Stroke

39.4in

Stick Cylinder – Bore

4.7in

Stick Cylinder – Stroke

47.1in

Bucket Cylinder – Bore

3.9in

Bucket Cylinder – Stroke

37.0in

Service Refill Capacities

Fuel Tank

52.8gal

Cooling System

4.6gal

Engine Oil

4.6gal

Swing Drive (each)

0.8gal

Final Drive (each)

0.66gal

Hydraulic System (including tank)

39.6gal

Hydraulic Tank

31.7gal

Standards

Cab/FOGS

0