302.4D Mini Hydraulic Excavator
302.4D Mini Hydraulic Excavator
The Cat® 302.4D provides power and efficiency so that you can get the best out of your job without ever feeling the strain. You can be assured of faster, more powerful digging with a smoother response.
Download Product Documents
Click a link to download the document:
Share:
Versatility
Flexible and functional for all jobs.
High Flexibility
Compact in size and with a transport weight under 2300 kg (5,070 lb), the 302.4D can be transported easily using a conventional trailer and pick up truck or transit van. The sturdy hoisting eyelets on the cab roof enable the easy and rapid relocation of the machine between sites.
Automatic Swing Lock
Safe transportation of the machine is aided by the Cat automatic swing lock which locks the machines upper body in place when the control console is raised or the engine is stopped.
Work Tools
A variety of purpose designed work tools are available, including buckets, quick couplers, hammer and auger. All Cat tools are built to last and matched to your machine to deliver excellent value and optimize performance.
Auxiliary Hydraulics as Standard Fit
Machine is 'ready to work.' Hammer and two way lines complete with quick disconnect fittings are standard. Connections are located close to the tool to reduce hose lengths and any potential damage. Additional line options are available to further increase machine versatility. Stick and bucket cylinder hoses are protected by routing them through the boom.
Auxiliary Flow Control
Machines configured with proportional auxiliary hydraulics, include the ability to adjust the flow for even greater tool control. Especially useful with tools such as angling ditching buckets.
Thumb Ready Stick (North American Builds)
The 302.4D is configured with brackets and relief valves for simple and cost effective mounting of a hydraulic thumb.
Performance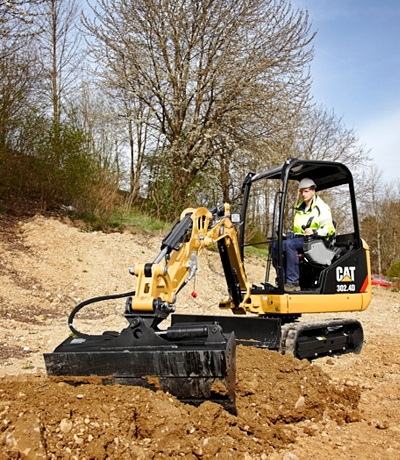 Powerful operation and greater uptime.
Built Tough
The front end of the 302.4D is designed for hard work. Its rugged construction and protected hydraulics ensure that the machine is up to the toughest of jobs. Steel tubes, positioned above the boom supply the hydraulic fluid to the tools, ensuring protection from damage while keeping any maintenance quick and easy. Components have been located to ensure the best possible machine center of gravity and weight distribution and give operator confidence over a range of terrain and applications.
Dozer Float
Ground levelling and finishing applications are fast and easier with the dozer float function engaged making site clean-up much more efficient.
Dig Force
The 302.4D boasts high bucket and stick forces making it an impressive and productive excavator. The choice of two stick lengths allows the customer to configure his machine to deliver even higher stick forces or longer reach. You have the choice, we have the solution. All hydraulic functions are fully pilot operated, delivering effortless operation, reducing maintenance and lowering owner operating costs.
Productive Comfort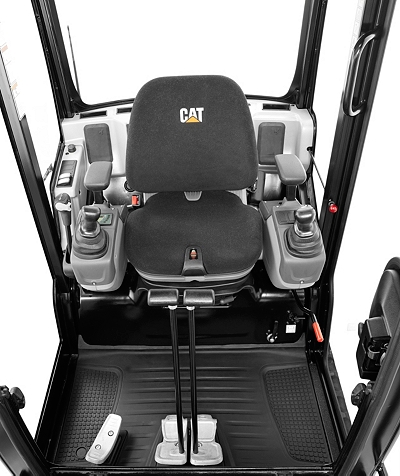 Large operator environment and ergonomic control layout.
The Cat 302.4D cab is amongst the largest in the industry. The flat cab floor optimizes visibility and increases operator leg room. The ergonomic control layout provides a comfortable, highly productive workspace. The large two-part front windscreen allows the driver to slide both lower and upper panes beneath the cab roof, so protecting them from damage when the front screen is wide open. This also negates the need to remove or store the bottom windscreen pane away separately.
100% Pilot Controls
All hydraulic functions are fully pilot operated, delivering effortless operation, reducing maintenance and lowering owner operating costs. 'As new' machine controllability is maintenance free without the need for adjustment of linkages or cables. Auxiliary and boom swing services are controlled by proportional switches mounted on the joysticks.
2 Way Canopy Access
Canopy builds allow the operator to enter and exit the operator station from both sides of the machine, helping to increase productivity and making working around site much easier.
Maintenance and Service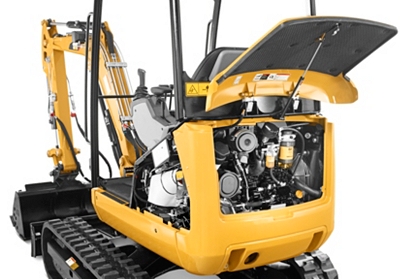 Easy access and minimal maintenance requirements keep you working.
Easy Maintenance and Service
All daily checks and regular service points, are easily accessed. A large steel rear door and removable panels allow room to efficiently work on the machine when required. The main hydraulic valve and lines are also easily reached through a removable floor plate and side panels. Durable steel body panels all round the machine offer good resistance to damage and are easily maintained to help keep the machine looking good and holding its value. Both side plates and the cab floor plate are easy to remove and provide unhindered access to all internal hydraulic components.
Unmatched support makes the difference
Your Cat dealer is ready to assist you with your purchase decision and everything after.
Financing packages are flexible to meet your needs
Unmatched parts availability keeps you working
Make comparisons of machines, with estimates of component life, preventative maintenance and cost of production
For more information on Cat products, dealer services and industry solutions, visit www.cat.com
Engine
Engine Model

Yanmar 3TNV76

Net Power

17.7hp

Displacement

40.0in3

Gross Power (ISO 14396)

24.3hp

Rated Net Power @ 2,200 rpm (ISO 9249)

17.7hp
Weights
Operating Weight

5115.0lb

Operating Weight with Cab

5115.0lb

Operating Weight with Canopy

4872.0lb

Transport Weight with Cab

4795.0lb

Transport Weight with Canopy

4553.0lb
Hydraulic System
Operating Pressure - Equipment

3481.0psi

Operating Pressure - Travel

3481.0psi

Operating Pressure - Swing

2176.0psi

Auxiliary Circuits - Primary

30 L/min at 170 bar (8 gal/min at 2,465 psi)

Auxiliary Circuits - Secondary

17 L/min at 200 bar (4.5 gal/min at 2,900 psi)

Maximum Bucket Force

4900.0lb

Maximum Stick Force - Long Stick

2990.0lb

Maximum Stick Force - Standard Stick

3372.0lb

Pump Flow @ 2,200 rpm

26.1 + 26.1 + 19.4 + 6.4 L/min (6.9 + 6.9 + 5.1 + 1.7 gal/min)
Blade
Width

55.0in

Height

11.8in

Dig Depth

13.0in

Lift Height

11.5in
Travel System
Gradeability

30°/58%

Travel Speed

2.5 km/h-4 km/h (1.55 mph-2.5 mph)
Dimensions (Approximate) - Standard Stick
Boom Swing Angle (LH)

77°/64°

Boom Swing Angle (RH)

48.0Degrees

Height

7.84ft

Length of Undercarriage

6.0ft

Maximum Boom Offset (LH)

14.0in

Maximum Boom Offset (RH)

20.0in

Maximum Dig Height

12.96ft

Maximum Digging Depth

7.87ft

Maximum Dozer Dig Depth

13.0in

Maximum Dozer Lift Height

12.0in

Maximum Dump Height

9.0ft

Maximum Reach at Ground Level

13.19ft

Maximum Vertical Dig Depth

5.15ft

Tail Swing Radius

3.84ft

Transport Length (Arm Lowered)

13.22ft

Width

4.59ft
Dimensions (Approximate) - Long Stick
Boom Swing Angle (LH)

77°/64°

Boom Swing Angle (RH)

48.0Degrees

Height

7.84ft

Length of Undercarriage

6.0ft

Maximum Boom Offset (LH)

14.0in

Maximum Boom Offset (RH)

20.0in

Maximum Dig Height

13.35ft

Maximum Digging Depth

8.53ft

Maximum Dozer Dig Depth

13.0in

Maximum Dozer Lift Height

12.0in

Maximum Dump Height

9.42ft

Maximum Reach at Ground Level

13.85ft

Maximum Vertical Dig Depth

5.74ft

Tail Swing Radius

3.84ft

Transport Length (Arm Lowered)

13.22ft

Width

4.59ft
Service Refill Capacities
Fuel Tank Capacity

6.3gal

Hydraulic Tank Capacity

5.0gal
Operating Specifications
Machine Overhang

18.1in

Stick Length - Long

49.2in

Stick Length - Standard

42.0in
Standard Equipment
Automatic swing park brake
Auxiliary quick disconnect couplers
Canopy - ROPS and TOPS protection
Dozer blade
Dozer float
Fixed undercarriage
Hammer/two way auxiliary hydraulic lines
Hydraulic oil cooler
Maintenance free battery
Retractable seat belt
Rubber track 250 mm (10 in) wide
Suspension seat, vinyl covered
Travel pedals
Working light mounted to boom
Optional Equipment
Additional hydraulic circuit diverted from bucket cylinder
Auto engine idle
Boom stick or dozer blade check valve
Cab, radio ready - ROPS and TOPS protection, heater/defroster and windscreen washer/wiper
Cab top guard to ISO 10262 (Level 1)
Cab/canopy lights
Joystick mounted proportional auxiliary control with flow control
Long stick
Mirror pack
Removable swing stop
Second auxiliary lines
Suspension seat, fabric covered