CW14 Pneumatic Roller
CW14 Pneumatic Roller
The Cat® CW14 is a standard nine wheel pneumatic roller with an option to increase to 11 wheels. It offers an operating weight range of 4885 kg to 17 232 kg (10,273 lb – 38,000 lb) for excellent versatility and performance. Equipped with an efficient Cat C3.4B engine, this machine delivers smooth, reliable performance on grades and soft base materials.
Download Product Documents
Click a link to download the document:
Share:
Versatile Compaction Performance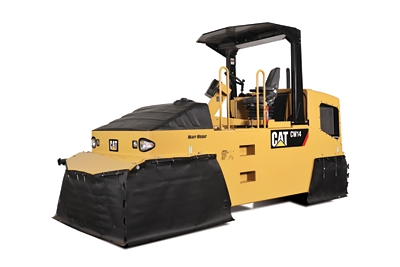 Versatile Compaction Performance due to the flexible ballast system that includes steel, sand, and water, make it easy to adjust operating weights and match job site requirements. Oscillating front and rear wheels seek out soft spots for compaction on uneven surfaces.
Compaction Width
Nine rubber tires provide an overall compaction width of 1740 mm (68") with 13 mm (.5") overlap. The 11-wheel option delivers a compaction width of 2130 mm (84").
Flexible Ballast
Ballast options include 3.82 metric tons (8,432 lb) water ballast, 8.05 metric tons (17,758 lb) sand and water combination, and 12.31 metric tons (27,156 lb) steel, sand and water combination for excellent application versatility. Also, the water-tight chamber is equipped with baffled compartments to prevent surge.
Oscillating Tires
Oscillating front and rear tires deliver vertical and horizontal forces that reduce air voids, providing surface uniformity. Heat retention covers trap heat to keep the tires warm and prevent pick-up. They can be easily stored when not in use.
Exceptional Visibility and Control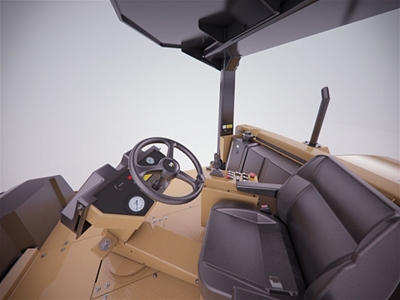 Standard fixed seating with optional pivoting operating station that rotates 45º to either side for ultimate comfort and control. The contoured water tank optimizes forward visibility.
Smooth Operating Powertrain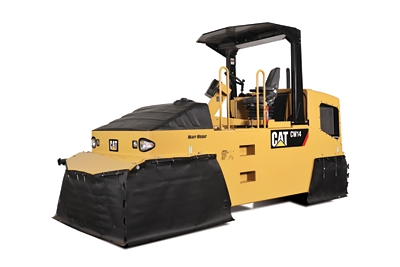 Smooth Operating Powertrain with hydrostatic propel control and smooth braking system. The two-speed propel system the delivers a maximum operating speed of 18 km/hr (11 mph) offers good mobility and gradeability. An optional traction control system delivers performance on soft base materials and grades.
C3.4B Engine
The C3.4B engine meets U.S. EPA Tier 4 Interim and EU Stage IIIB emission standards and provides 75 kW (100.5 hp).
Simple Service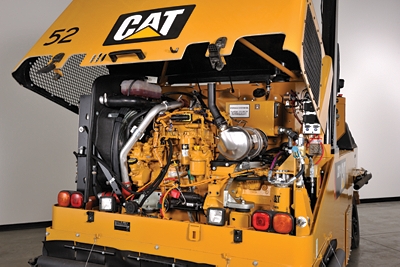 Simple ground level service with easy-viewing sight gauges, convenient filter access, and color-coded electrical components.
Best Lifetime Value
Best Lifetime Value with efficient engine and durable rubber tires minimize life-time operating costs and maximize profit.
Weights
Operating Weight - Max Ballast

28528.0lb

Operating Weight - Standard Machine Empty

10770.0lb

Operating Weight - Max Water Ballast

19202.0lb

Operating Weight - Max Wet Sand Ballast

28528.0lb

Average Weight per Wheel

2116.0lb

Operating Weight without ballast (Heavy Weight option)

10924.0lb

Operating Weight with maximum ballast (Heavy Weight option)

38000.0lb

Operating Weight per wheel (Heavy Weight option)

4233.0lb

Average Weight per Wheel - Max Ballast

1212.0lb

Average Weight per Wheel - Max Ballast, HW option

4233.0lb

Average Weight per Wheel - No Ballast

1190.0lb

Operating Weight - Max Ballast, HW option

38000.0lb

Operating Weight - No Ballast

10770.0lb
Operating Specifications
Compaction Width

68.0in

Turning Radius - Inside

15.1in

Rolling Width

68.0in

Turning Radius - outside

21.1in

Ground Clearance

10.5in

Number of Wheels

9 or 11

Travel Speed - Maximum

11.0mph

Turning Radius - Inside

15.1ft
Engine
Gross Power

100.5hp

Bore

3.89in

Stroke

4.33in

Engine Model

C3.4B
Dimensions
Overall Length

14.1in

Height at Steering Wheel

91.0in

Height at ROPS

9.8in

Maximum Machine Height

9.8in
Service Refill Capacities
Fuel Tank Capacity

45.6gal

Water (Spray) Tank Capacity

104.0gal
Tires
Tires

7.5 x 15
Benefits & Features

Versatile Compaction Performance

Versatile Compaction Performance due to the flexible ballast system that includes steel, sand, and water, make it easy to adjust operating weights and match job site requirements. Oscillating front and rear wheels seek out soft spots for compaction on uneven surfaces.

Compaction Width

Nine rubber tires provide an overall compaction width of 1740 mm (68") with 13 mm (.5") overlap. The 11-wheel option delivers a compaction width of 2130 mm (84").

Flexible Ballast

Ballast options include 3.82 metric tons (8,432 lb) water ballast, 8.05 metric tons (17,758 lb) sand and water combination, and 12.31 metric tons (27,156 lb) steel, sand and water combination for excellent application versatility. Also, the water-tight chamber is equipped with baffled compartments to prevent surge.

Oscillating Tires

Oscillating front and rear tires deliver vertical and horizontal forces that reduce air voids, providing surface uniformity. Heat retention covers trap heat to keep the tires warm and prevent pick-up. They can be easily stored when not in use.

Exceptional Visibility and Control

Standard fixed seating with optional pivoting operating station that rotates 45º to either side for ultimate comfort and control. The contoured water tank optimizes forward visibility.

Smooth Operating Powertrain

Smooth Operating Powertrain with hydrostatic propel control and smooth braking system. The two-speed propel system the delivers a maximum operating speed of 18 km/hr (11 mph) offers good mobility and gradeability. An optional traction control system delivers performance on soft base materials and grades.

C3.4B Engine

The C3.4B engine meets U.S. EPA Tier 4 Interim and EU Stage IIIB emission standards and provides 75 kW (100.5 hp).

Simple Service

Simple ground level service with easy-viewing sight gauges, convenient filter access, and color-coded electrical components.

Best Lifetime Value

Best Lifetime Value with efficient engine and durable rubber tires minimize life-time operating costs and maximize profit.

Specifications

Weights

Operating Weight - Max Ballast

28528.0lb

Operating Weight - Standard Machine Empty

10770.0lb

Operating Weight - Max Water Ballast

19202.0lb

Operating Weight - Max Wet Sand Ballast

28528.0lb

Average Weight per Wheel

2116.0lb

Operating Weight without ballast (Heavy Weight option)

10924.0lb

Operating Weight with maximum ballast (Heavy Weight option)

38000.0lb

Operating Weight per wheel (Heavy Weight option)

4233.0lb

Average Weight per Wheel - Max Ballast

1212.0lb

Average Weight per Wheel - Max Ballast, HW option

4233.0lb

Average Weight per Wheel - No Ballast

1190.0lb

Operating Weight - Max Ballast, HW option

38000.0lb

Operating Weight - No Ballast

10770.0lb

Operating Specifications

Compaction Width

68.0in

Turning Radius - Inside

15.1in

Rolling Width

68.0in

Turning Radius - outside

21.1in

Ground Clearance

10.5in

Number of Wheels

9 or 11

Travel Speed - Maximum

11.0mph

Turning Radius - Inside

15.1ft

Engine

Gross Power

100.5hp

Bore

3.89in

Stroke

4.33in

Engine Model

C3.4B

Dimensions

Overall Length

14.1in

Height at Steering Wheel

91.0in

Height at ROPS

9.8in

Maximum Machine Height

9.8in

Service Refill Capacities

Fuel Tank Capacity

45.6gal

Water (Spray) Tank Capacity

104.0gal

Tires

Tires

7.5 x 15