SH150 – Shield Trailer
SH150 – Shield Trailer
When used in combination with the CL210 and CL215 LHD machines, the SH150 is the most cost-effective solution for mines that require equipment that performs multiple tasks. Features include fifth-wheel connection attachment, optional power assist for inconsistent floor conditions, hydraulics for raising and lowering the trailer body, hydraulic loading and unloading cylinders and SAHR fail safe brakes.
Download Product Documents
Click a link to download the document:
Share:
RAS Chock/Roof Support Trailer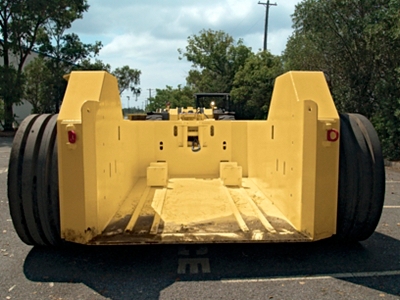 The SH150 roof support trailer turns your LHD into a high-speed shield hauler capable of carrying 50 tonnes (55.12 tons) and shields up to 2 m (6.56 ft) wide. The 55 000 kg (121,254 lb) RAS Chock/Roof Support Trailer is just one of the wide range of attachments available. The trailer is connected by a 5th Wheel Adapter unit to the towing vehicle. The trailer has a hydraulic powered winch for loading the Chock/Roof Support into the trailer body. The floor of the trailer is tapered allowing easy access into the trailer body by the support. Steel wear strips are welded in place for the support to slide over, reducing frictional resistance. Hydraulic powered cylinders acting on a slide plate raise and lower the trailer body to the floor. Hydraulic cylinders are incorporated in the chock/roof support positional stops and act as eject cylinders in the unloading sequence.
Optional Power Assist Drive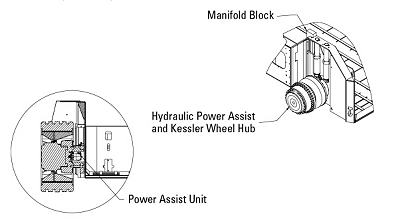 The hydraulic assist drive system fitted to the trailer is considered as an additional power assist unit for the trailer in areas of inconsistent floor and roadway conditions and is designed for intermittent use and not as a full time constant additional power drive. The hydraulic wheel motors are driven by the towing vehicle's hydraulic system through the power take off (PTO) connection.
Other Features
With spring-applied hydraulic brakes and solid rubber wheels, the trailer is hydraulically lowered and raised for easy loading and unloading of transport. The trailer has a capacity of 30 000 or 50 000 kg (66,139 or 110,231 lb) and can carry a 2 m (6.56 ft) roof support. The SH150 can be towed by the CL210 and CL215. Contact your local Caterpillar representative for further information on the SH150. If you have a specific job task requirement or an attachment that is not listed, let Caterpillar assist by developing a solution for and with you.
Specifications
Height

1870 mm (73.6 in)

Load Capacity

50 tonnes (55 tons)

Carry Capacity

55.0tons

Frame Oscillation

8.0Degrees

Gradients Possible (gradient data short-term only)

14.5° continuous

Ground Clearance

11.0in

Hydraulics

Quick connect PTO couplings from the towing vehicle

Maximum Speed

15.5mph

Maximum Speed with Load

9.3mph

Motor/Engine

Trailer

Pull Winch Rated at

20 tonnes (22 tons)/30 tonnes (33 tons)

Steering Articulation

45.0Degrees

Turn Radius (outside)

24.61ft

Unload

2 × hydraulic cylinders in stops

Vehicle Length

15.42ft

Vehicle Width

12.63ft
Dimensions (Approximate): Power Assisted Trailer Model - Option 1
Ground Clearance Lifted

9.8in

Height in Travel Position

73.6in

Height - To Top of 5th Wheel Loaded

40.3in

Height - To Top of Guard Lifted

72.2in

Height - To Top of Wheel Arch Lifted

68.9in

Length - 5th Wheel Stand Off

31.5in

Length - Center of Wheel to 5th Wheel Pivot

175.2in

Length - End to 5th Wheel Mount

179.9in

Length - End to 5th Wheel Pivot

212.2in

Length - Overall

226.8in

Width - Inside

68.9in

Width - Overall Over Wheels

139.0in
Dimensions (Approximate): Non-Power Assisted Trailer Model - Option 2
Ground Clearance Lifted

9.8in

Height in Travel Position

73.6in

Height - To Top of 5th Wheel Loaded

40.3in

Height - To Top of Guard Lifted

72.2in

Height - To Top of Wheel Arch Lifted

68.9in

Length - 5th Wheel Stand Off

31.5in

Length - Center of Wheel to 5th Wheel Pivot

169.3in

Length - End to 5th Wheel Mount

174.0in

Length - End to 5th Wheel Pivot

205.5in

Length - Overall

220.5in

Width - Inside

78.7in

Width - Overall Over Wheels

144.9in
Winch
Winch Capacity - Optional

66138.0lb

Winch Capacity - Standard

44092.0lb

Winch Rope

Flat platted type or optional Kevlar Blue
Dimensions (Approximate): Power Assisted Trailer Model - Option 3
Ground Clearance Lifted

9.8in

Height in Travel Position

73.6in

Height - To Top of 5th Wheel Loaded

40.3in

Height - To Top of Guard Lifted

72.2in

Height - To Top of Wheel Arch Lifted

68.9in

Length - 5th Wheel Stand Off

31.5in

Length - Center of Wheel to 5th Wheel Pivot

169.3in

Length - End to 5th Wheel Mount

174.0in

Length - End to 5th Wheel Pivot

205.5in

Length - Overall

220.5in

Width - Inside

86.6in

Width - Overall Over Wheels

156.7in
Dimensions (Approximate): Non-Power Assisted Trailer Model - Option 3
Ground Clearance Lifted

9.8in

Height in Travel Position

73.6in

Height - To Top of 5th Wheel Loaded

40.3in

Height - To Top of Guard Lifted

72.2in

Height - To Top of Wheel Arch Lifted

68.9in

Length - 5th Wheel Stand Off

31.5in

Length - Center of Wheel to 5th Wheel Pivot

169.3in

Length - End to 5th Wheel Mount

174.0in

Length - End to 5th Wheel Pivot

205.5in

Length - Overall

220.5in

Width - Inside

86.6in

Width - Overall Over Wheels

152.8in
Dimensions (Approximate): Non-Power Assisted Trailer Model - Option 1
Ground Clearance Lifted

9.8in

Height in Travel Position

73.6in

Height - To Top of 5th Wheel Loaded

40.3in

Height - To Top of Guard Lifted

72.2in

Height - To Top of Wheel Arch Lifted

68.9in

Length - 5th Wheel Stand Off

31.5in

Length - Center of Wheel to 5th Wheel Pivot

175.2in

Length - End to 5th Wheel Mount

179.9in

Length - End to 5th Wheel Pivot

212.2in

Length - Overall

226.8in

Width - Inside

68.9in

Width - Overall Over Wheels

135.0in
Dimensions (Approximate): Power Assisted Trailer Model - Option 2
Ground Clearance Lifted

9.8in

Height in Travel Position

73.6in

Height - To Top of 5th Wheel Loaded

40.3in

Height - To Top of Guard Lifted

72.2in

Height - To Top of Wheel Arch Lifted

68.9in

Length - 5th Wheel Stand Off

31.5in

Length - Center of Wheel to 5th Wheel Pivot

169.3in

Length - End to 5th Wheel Mount

174.0in

Length - End to 5th Wheel Pivot

205.5in

Length - Overall

220.5in

Width - Inside

78.7in

Width - Overall Over Wheels

148.8in
Trailer
Trailer Mass

30864.0lb
Nominal Ground Pressure
Loaded

192.9psi

Unloaded

36.26psi
Support
Support Mass (reference Caterpillar for load/braking restrictions)

Up to 55 000 kg (Up to 121,254 lb)

Support Width (reference trailer widths)

1750 mm (68.9 in) and 2000 mm (78.7 in)
Benefits & Features

RAS Chock/Roof Support Trailer

The SH150 roof support trailer turns your LHD into a high-speed shield hauler capable of carrying 50 tonnes (55.12 tons) and shields up to 2 m (6.56 ft) wide. The 55 000 kg (121,254 lb) RAS Chock/Roof Support Trailer is just one of the wide range of attachments available. The trailer is connected by a 5th Wheel Adapter unit to the towing vehicle. The trailer has a hydraulic powered winch for loading the Chock/Roof Support into the trailer body. The floor of the trailer is tapered allowing easy access into the trailer body by the support. Steel wear strips are welded in place for the support to slide over, reducing frictional resistance. Hydraulic powered cylinders acting on a slide plate raise and lower the trailer body to the floor. Hydraulic cylinders are incorporated in the chock/roof support positional stops and act as eject cylinders in the unloading sequence.

Optional Power Assist Drive

The hydraulic assist drive system fitted to the trailer is considered as an additional power assist unit for the trailer in areas of inconsistent floor and roadway conditions and is designed for intermittent use and not as a full time constant additional power drive. The hydraulic wheel motors are driven by the towing vehicle's hydraulic system through the power take off (PTO) connection.

Other Features

With spring-applied hydraulic brakes and solid rubber wheels, the trailer is hydraulically lowered and raised for easy loading and unloading of transport. The trailer has a capacity of 30 000 or 50 000 kg (66,139 or 110,231 lb) and can carry a 2 m (6.56 ft) roof support. The SH150 can be towed by the CL210 and CL215. Contact your local Caterpillar representative for further information on the SH150. If you have a specific job task requirement or an attachment that is not listed, let Caterpillar assist by developing a solution for and with you.

Specifications

Specifications

Height

1870 mm (73.6 in)

Load Capacity

50 tonnes (55 tons)

Carry Capacity

55.0tons

Frame Oscillation

8.0Degrees

Gradients Possible (gradient data short-term only)

14.5° continuous

Ground Clearance

11.0in

Hydraulics

Quick connect PTO couplings from the towing vehicle

Maximum Speed

15.5mph

Maximum Speed with Load

9.3mph

Motor/Engine

Trailer

Pull Winch Rated at

20 tonnes (22 tons)/30 tonnes (33 tons)

Steering Articulation

45.0Degrees

Turn Radius (outside)

24.61ft

Unload

2 × hydraulic cylinders in stops

Vehicle Length

15.42ft

Vehicle Width

12.63ft

Dimensions (Approximate): Power Assisted Trailer Model - Option 1

Ground Clearance Lifted

9.8in

Height in Travel Position

73.6in

Height - To Top of 5th Wheel Loaded

40.3in

Height - To Top of Guard Lifted

72.2in

Height - To Top of Wheel Arch Lifted

68.9in

Length - 5th Wheel Stand Off

31.5in

Length - Center of Wheel to 5th Wheel Pivot

175.2in

Length - End to 5th Wheel Mount

179.9in

Length - End to 5th Wheel Pivot

212.2in

Length - Overall

226.8in

Width - Inside

68.9in

Width - Overall Over Wheels

139.0in

Dimensions (Approximate): Non-Power Assisted Trailer Model - Option 2

Ground Clearance Lifted

9.8in

Height in Travel Position

73.6in

Height - To Top of 5th Wheel Loaded

40.3in

Height - To Top of Guard Lifted

72.2in

Height - To Top of Wheel Arch Lifted

68.9in

Length - 5th Wheel Stand Off

31.5in

Length - Center of Wheel to 5th Wheel Pivot

169.3in

Length - End to 5th Wheel Mount

174.0in

Length - End to 5th Wheel Pivot

205.5in

Length - Overall

220.5in

Width - Inside

78.7in

Width - Overall Over Wheels

144.9in

Winch

Winch Capacity - Optional

66138.0lb

Winch Capacity - Standard

44092.0lb

Winch Rope

Flat platted type or optional Kevlar Blue

Dimensions (Approximate): Power Assisted Trailer Model - Option 3

Ground Clearance Lifted

9.8in

Height in Travel Position

73.6in

Height - To Top of 5th Wheel Loaded

40.3in

Height - To Top of Guard Lifted

72.2in

Height - To Top of Wheel Arch Lifted

68.9in

Length - 5th Wheel Stand Off

31.5in

Length - Center of Wheel to 5th Wheel Pivot

169.3in

Length - End to 5th Wheel Mount

174.0in

Length - End to 5th Wheel Pivot

205.5in

Length - Overall

220.5in

Width - Inside

86.6in

Width - Overall Over Wheels

156.7in

Dimensions (Approximate): Non-Power Assisted Trailer Model - Option 3

Ground Clearance Lifted

9.8in

Height in Travel Position

73.6in

Height - To Top of 5th Wheel Loaded

40.3in

Height - To Top of Guard Lifted

72.2in

Height - To Top of Wheel Arch Lifted

68.9in

Length - 5th Wheel Stand Off

31.5in

Length - Center of Wheel to 5th Wheel Pivot

169.3in

Length - End to 5th Wheel Mount

174.0in

Length - End to 5th Wheel Pivot

205.5in

Length - Overall

220.5in

Width - Inside

86.6in

Width - Overall Over Wheels

152.8in

Dimensions (Approximate): Non-Power Assisted Trailer Model - Option 1

Ground Clearance Lifted

9.8in

Height in Travel Position

73.6in

Height - To Top of 5th Wheel Loaded

40.3in

Height - To Top of Guard Lifted

72.2in

Height - To Top of Wheel Arch Lifted

68.9in

Length - 5th Wheel Stand Off

31.5in

Length - Center of Wheel to 5th Wheel Pivot

175.2in

Length - End to 5th Wheel Mount

179.9in

Length - End to 5th Wheel Pivot

212.2in

Length - Overall

226.8in

Width - Inside

68.9in

Width - Overall Over Wheels

135.0in

Dimensions (Approximate): Power Assisted Trailer Model - Option 2

Ground Clearance Lifted

9.8in

Height in Travel Position

73.6in

Height - To Top of 5th Wheel Loaded

40.3in

Height - To Top of Guard Lifted

72.2in

Height - To Top of Wheel Arch Lifted

68.9in

Length - 5th Wheel Stand Off

31.5in

Length - Center of Wheel to 5th Wheel Pivot

169.3in

Length - End to 5th Wheel Mount

174.0in

Length - End to 5th Wheel Pivot

205.5in

Length - Overall

220.5in

Width - Inside

78.7in

Width - Overall Over Wheels

148.8in

Trailer

Trailer Mass

30864.0lb

Nominal Ground Pressure

Loaded

192.9psi

Unloaded

36.26psi

Support

Support Mass (reference Caterpillar for load/braking restrictions)

Up to 55 000 kg (Up to 121,254 lb)

Support Width (reference trailer widths)

1750 mm (68.9 in) and 2000 mm (78.7 in)